Celebrities React To The Death Of Joan Rivers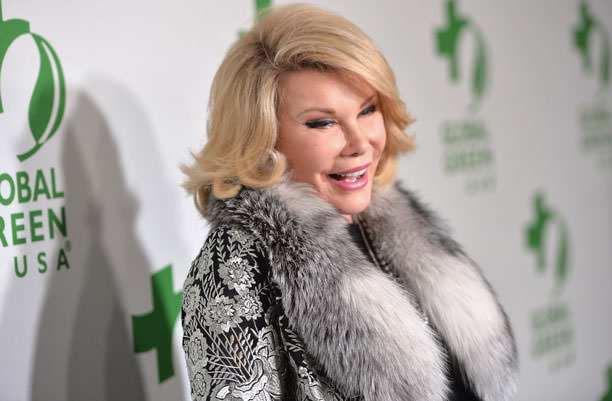 During these last few days, Joan Rivers was in our prayers, and now she is where she always was, in our hearts.
She brought smiles and great mood everywhere she went and this wasn't unnoticed. A great comedian and above all, professional will be missed by many.
Celebrities started sharing their feelings through social media immediately.
Joan Rivers @Joan_Rivers was an amazing woman and a great friend. Her energy and talent were boundless. She will be greatly missed.

— Donald J. Trump (@realDonaldTrump) September 4, 2014
.@Joan_Rivers was a dear & wonderful friend who I've known for 45yrs. Great guest, pal, comedian & mother. We will never see her likes again — Larry King (@kingsthings) September 4, 2014
My heart is absolutely broken. My prayers go out to #JoanRivers and her family. RIP#JoanRivers http://t.co/9QT4IGQgMA

— Zoe Saldana (@zoesaldana) September 4, 2014
Robin Williams & Joan Rivers dead in same few weeks. Arguably the funniest man & woman of my lifetime. Thank you both for all the laughs. — Piers Morgan (@piersmorgan) September 4, 2014
My friend Joan Rivers has passed away once again to quote Billy Crystal… There are no words. Bon Voyage Joan

— Whoopi Goldberg (@WhoopiGoldberg) September 4, 2014
Just heard the news on the radio about Joan Rivers thinking about @melrivers. Hope she takes comfort in knowing how many loved her mom. — Gayle King (@GayleKing) September 4, 2014
Sad news, Joan Rivers just passed. R.I.P. Funny lady Thanks for the laughs & for your heart Hope the angels are laughing w/ you now

— LeAnn Rimes Cibrian (@leannrimes) September 4, 2014
I'm so sad 2 hear tht Joan Rivers passed away 2day 🙁 A pioneer in women's comedy & a survivor w a capital S! Thank U Joan 4all th laughs <3 — Fran Drescher (@frandrescher) September 4, 2014
So funny and irrepressible. Rest in peace, Joan Rivers.

— bob saget (@bobsaget) September 4, 2014
Joan Rivers. Sigh. Comedy legend. Comedy trailblazer. Miss her already. — Denis Leary (@denisleary) September 4, 2014
At A Complete Loss For Words .. Rip @joan_rivers ..,,, @melrivers You And Your Family Are In My Prayers pic.twitter.com/CWWOwoacW2

— DJ Pauly D (@DJPaulyD) September 4, 2014
No words http://t.co/V0cgTfzYSz — Chris Rock (@chrisrock) September 4, 2014
RIP, #JoanRivers…. What a spirited force, trailblazer and beacon for all things funny. Such a loss.

— Mandy Moore (@TheMandyMoore) September 4, 2014
Joan Rivers will always be a pioneer. She paved the way for a lot of comedians. I'm very sad she's gone. pic.twitter.com/i1uE9fyHMh — Ellen DeGeneres (@TheEllenShow) September 4, 2014
So sad about Joan Rivers. She was such a kind and absolutely hilarious woman. My heart goes out to her family. pic.twitter.com/k3HV2hf4nZ

— Brad Goreski (@mrbradgoreski) September 4, 2014
SAD.. I met her and she was so cool. -> "@Ugodofwutang: RIP JOAN RIVERS DAMMMM !" — ICE T (@FINALLEVEL) September 4, 2014
Condolences to Melissa Rivers, whose house we visited a few weeks ago to spend an hilarious hour, In Bed with Joan. pic.twitter.com/gY0p2Qfh7P

— Simon Pegg (@simonpegg) September 4, 2014
Love Her or Hate Her, we're gonna Miss JOAN RIVERS! I always Respected her go for broke humor. One of a kind.R.I.P. — Samuel L. Jackson (@SamuelLJackson) September 4, 2014
Goodbye, Joan. You deserved a louder death. #RIPJoanRivers

— Patton Oswalt (@pattonoswalt) September 4, 2014
I am absolutely heartbroken and devastated about @Joan_Rivers I loved her! She was my friend and a beautiful amazing person #RIPJoanRivers — Tara Reid (@TaraReid) September 4, 2014
RIP, #JoanRivers…. What a spirited force, trailblazer and beacon for all things funny. Such a loss.

— Mandy Moore (@TheMandyMoore) September 4, 2014
Yesterday is history, tomorrow is a mystery, today is God's gift, that's why we call it the present- Joan Rivers She was a gift RIP — Regina King (@ReginaKing) September 4, 2014
So sad to hear we lost a great person today! #RIPJoanRivers http://t.co/IGCxuqy9BZ — Eva Longoria (@EvaLongoria) September 4, 2014
It was a treat running into Joan in the hallways at E!…she was always on… always a riot. Our thoughts are w/ you & your family @MelRivers.

— Ryan Seacrest (@RyanSeacrest) September 4, 2014
She was trailblazing. Hysterical. Thoughtful. We'll miss you immensely Joan. — Ryan Seacrest (@RyanSeacrest) September 4, 2014
I loved Joan Rivers. A trailblazing funny lady. Have fun up there. #RIPJoan

— Elizabeth Banks (@ElizabethBanks) September 4, 2014
Joan Rivers has died. What a sad ending to a brilliant and tragi-comic life; one of the bravest, and funniest of all. — Bette Midler (@BetteMidler) September 4, 2014
RIP to the funniest, most hardworking lady in the biz. You will be missed @Joan_Rivers!

— Jenny McCarthy (@JennyMcCarthy) September 4, 2014
RIP Joan Rivers. Being publicly told that my dress is hideous will never feel quite as awesome. You will be truly missed. — Anna Kendrick (@AnnaKendrick47) September 4, 2014
Watching Joan Rivers do standup at age 81 was incredible: athletic, jaw-dropping, terrifying, essential. It never stopped. Neither will she.

— Lena Dunham (@lenadunham) September 4, 2014
My heart is torn in half. She wasn't done. #Joan http://t.co/XH87wAT4Mb — Sarah Silverman (@SarahKSilverman) September 4, 2014
RIP Joan Rivers… You were one of the greatest… We will miss you making us laugh by always saying what we were afraid to…

— Jason Priestley (@Jason_Priestley) September 4, 2014
She is the greatest of all time RIP. HH pic.twitter.com/8ay4ibZk3b — Hulk Hogan (@HulkHogan) September 4, 2014
Incredibly heartbroken…we will miss you so much. Amazing Mother, Amazing Grandmother, Amazing… http://t.co/DRUIo7JpL5

— Kris Jenner (@KrisJenner) September 4, 2014
Joan was such a wonderful woman. Everytime I worked with her she was such a pleasure. One of the… http://t.co/y8dcUMiIjp — Ashley Benson (@AshBenzo) September 4, 2014
Sad to hear of Joan Rivers' passing. A great lady. It was honor to have the chance to spend the day with her once. pic.twitter.com/NcXKSDxvQw

— Dita Von Teese (@DitaVonTeese) September 4, 2014
To make people laugh is a talent. To make the world laugh is a gift. Thoughts & prayers are with Joan Rivers' family. She was one of a kind. — Maria Shriver (@mariashriver) September 4, 2014
So sorry to hear the news about Joan Rivers. She was one of a kind. My heart goes out to Melissa and Cooper.

— Katie Couric (@katiecouric) September 4, 2014
I am so sad. May I live my life as full as #JoanRivers did. Today is a sad day, but I will try and laugh to honor her #CanWeTalk #RIPJoan — Sarah Michelle (@RealSMG) September 4, 2014
So happy to have experienced her in person. Many beautiful laughs, a loving mother. #joanrivers pic.twitter.com/w7DN7YUolo

— Brooke Burns (@BrookeBurns) September 4, 2014
we lost a great one in @Joan_Rivers – she was funny all the way to the end — Jimmy Kimmel (@jimmykimmel) September 4, 2014
She was a friend to us all…

— David Hasselhoff (@DavidHasselhoff) September 4, 2014
RIP Joan Rivers… You made fun of my boobies just last week and it was an HONOR. Thanks for making so many people laugh here on Earth. — Demi Lovato (@ddlovato) September 4, 2014